Thoughtful Teacher Gifts: Lunch Boxes, Mini Blender Bottles, and More for a Well-Rounded Classroom Experience
Category:

Family

,

General

Published Date:

July 14, 2023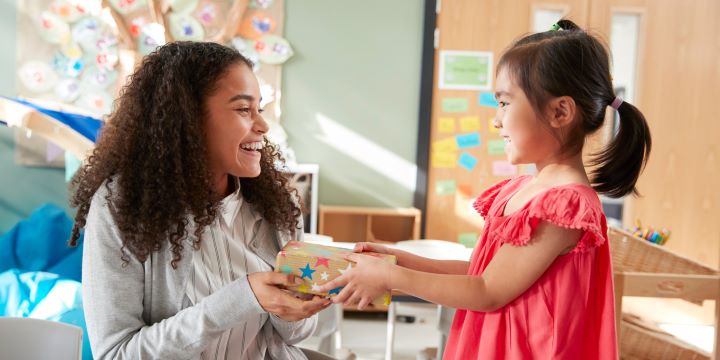 Teachers play a vital role in shaping young minds, and expressing gratitude through thoughtful gifts is a wonderful way to appreciate their hard work and dedication. In this article, we explore a range of the best teacher gifts that prioritize functionality, convenience, and well-being for teachers. From lunch boxes to mini blender bottles and other practical items, these gifts aim to enhance their daily routine and contribute to a well-rounded classroom experience.
Lunch Boxes for Delicious and Nutritious Meals:
Teachers often have limited time to enjoy a nourishing lunch during busy school days. Consider these lunch box ideas that combine practicality with style:
Insulated Lunch Bags: Opt for insulated lunch bags that keep meals fresh and at the desired temperature. Look for designs that reflect the teacher's personality or feature motivational quotes to uplift their day.
Bento-Style Lunch Boxes: Bento-style lunch boxes, like Sistema containers, with multiple compartments allow teachers to pack a variety of foods without them mixing together. These boxes are not only practical but also visually appealing, making lunchtime more enjoyable.
Customized Lunch Totes: Personalize a lunch tote with the teacher's name or a special message to make it truly unique and meaningful. This thoughtful touch showcases your appreciation and attention to detail.
Mini Blender Bottles for Refreshing Snacks and Beverages:
Help teachers stay energized and hydrated throughout the day with the gift of a mini blender bottle. These portable devices make it easy to prepare and enjoy healthy snacks and beverages. Consider the following options:
Protein Shake Mixers: Mini blender bottles with built-in mixing mechanisms are perfect for preparing protein shakes or smoothies. Look for models with leak-proof lids and easy-to-clean components.
Infuser Bottles: Infuser bottles allow teachers to infuse their water with fruits, herbs, or even tea leaves, adding a refreshing twist to their hydration routine. Choose bottles with wide-mouth openings for easy cleaning and fruit insertion.
Compact and Travel-Friendly: Opt for mini blender bottles that are compact, lightweight, and easy to carry. Teachers can conveniently enjoy their favorite snacks and beverages wherever they go, whether it's in the classroom or during outdoor activities.
Classroom Supplies for an Organized Learning Environment:
Teachers always appreciate practical classroom supplies that contribute to an organized and efficient learning space. Consider these gift ideas:
Fiskars Scissors and Crafting Tools: Fiskars scissors are renowned for their quality and durability. Gift teachers a set of these versatile scissors along with other crafting tools like glue sticks, colored markers, and decorative tapes. These supplies empower teachers to create engaging and visually appealing classroom displays.
Desk Organizers and Storage Solutions: Help teachers keep their workspace neat and tidy with desk organizers, storage bins, or file folders. These practical gifts ensure that essential documents and materials are easily accessible, saving valuable time during lesson preparation.
Personalized Teacher Stamps: Customized teacher stamps are not only practical but also add a personal touch to classroom activities. Teachers can use them for grading papers, providing feedback, or motivating students with encouraging messages.
Self-Care Gifts for Teacher Well-being:
Teachers often prioritize their students' well-being, but it's essential to encourage their self-care as well. Consider these self-care gift ideas:
Aromatherapy Diffusers: Aromatherapy diffusers can create a relaxing and rejuvenating atmosphere in the classroom or at home. Pair them with a set of essential oils known for their calming properties to help teachers unwind after a long day.
Spa Gift Sets: Treat teachers to luxurious spa gift sets that include bath bombs, scented candles, body lotions, and facial masks. These indulgent gifts provide an opportunity for relaxation and pampering.
Wellness Subscriptions: Consider gifting teachers subscriptions to wellness apps, meditation programs, or online fitness classes. These resources promote self-care and offer teachers the tools to prioritize their physical and mental well-being.
Conclusion:
When it comes to expressing gratitude to teachers, thoughtful gifts that cater to their needs and well-being can make a significant impact. Lunch boxes, blender bottle, classroom supplies, and self-care gifts all contribute to a well-rounded classroom experience and showcase your appreciation for their dedication. By considering these gift ideas, you can celebrate teachers and acknowledge their invaluable contributions to education.